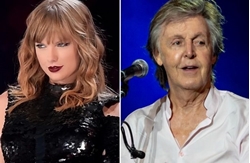 During a recent interview with Billboard, pop star Taylor Swift has shared the details of what she really thinks about The Beatles legend Paul McCartney.
In 2018, Paul McCartney has released his single track "Who Cares", and he admitted that the song was inspired by Taylor Swift.
Today, Taylor talked about the Paul McCartney's "Who Cares" titled song, and said:
"I really like it when you go and see a show and you want to hear the songs that you loved. You want all that old, iconic, classic stuff.
I like it when a performer knows that and will give that to their fans, rather than being like, 'No, I'm only playing this new project.' I think that you got to be respectful of what people want, and I just think that's really cool.
Source: Feyyaz Ustaer/metalheadzone.com