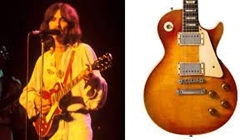 A few weeks ago, a 1958 Gibson Les Paul with quite the backstory went up for auction.
The electric guitar in question had once been purchased by none other than George Harrison, as a ransom payment of sorts for the safe return of another Les Paul, the Beatle's beloved '57 "Lucy" model.
Now, via Heritage Auctions (opens in new tab), the '58 "ransom" Les Paul has reportedly been sold for an impressive $312,500 (opens in new tab), well over its original opening bid of $250,000.
After playing a significant role on the Beatles' White Album, Let It Be, and Abbey Road, Lucy – which, before Harrison, had been in the possession of the Lovin' Spoonful's John Sebastian, Rick Derringer, and Eric Clapton – was stolen from Harrison's Beverly Hills home during a 1973 burglary and sold to Whalin's Sound City music store on Sunset Blvd.
Source: Jackson Maxwell/guitarplayer.com