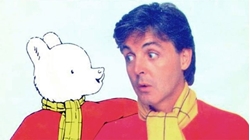 'We All Stand Together' from the animated film Rupert and the Frog Song and reached number three in the UK Singles Chart in 1984. (Parlophone)
Bears have been big business at the movies over the last few years, with Winnie the Pooh enjoying box office success via Christopher Robin, and Paddington becoming a bona fide franchise smash thanks to two hugely popular films, with another on the way.
But another bear – as cute as Winnie and Pads, and just as well-known in the UK – failed to get an invite to the celluloid party. Rupert – he of the yellow scarf, red jumper and tweed trousers – debuted in the pages of the Daily Express in 1920, and his adventures have been entertaining children of all ages ever since.
But in spite of small screen success via multiple TV shows, Rupert is yet to make his big screen debut.
Though some 35 years ago, a Beatle came close.
Source: Chris TillyContributor/yahoo.com