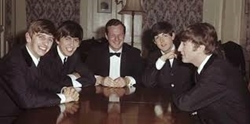 Twin Cities songwriter and Music in Minnesota editor Erik Ritland releases a new article every Friday. Ranging from fun lists to serious music commentary, they are a companion to his podcast, Erik Ritland isn't so Bad.
The Beatles are perhaps the most revered band in pop/rock history. Since their later material is so revered, it's hard to imagine just how impactful their earliest songs and albums were.
There was plenty of other great music released in the early '60s, but singles like "I Want to Hold Your Hand" and "She Loves You" were explosive. There was nothing like their music. Some would say that there still isn't, although their early material is now obscured by everything that was influenced by it.
Below are 10 essential Beatles songs from the first half of their career, showing their arc from Hamburg-hardened pop/rock band into a more sophisticated sound. Find a playlist featuring each of these songs here.
Source: Erik Ritland/musicinminnesota.com