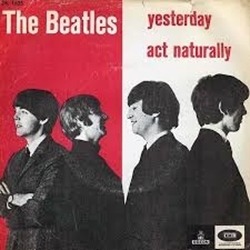 Ringo Starr may be best known as a rocker (or a "mocker," as he joked in A Hard Day's Night), but he has made no secret of his love for country music.
He cowrote "What Goes On," a country-tinged track off the Beatles' Rubber Soul, and penned his own full-fledged take on the genre, "Don't Pass Me By" off the White Album. Early in his solo career, Starr released 1970's Beaucoups of Blues, which served as his ode to the genre; on his last album, Give More Love, he once again nodded to the genre with "So Wrong for So Long."
Even before he joined the Beatles, Starr briefly played in a country and western-influenced band. Therefore it comes as little surprise that the drummer would sing lead on "Act Naturally," a Buck Owens cover that transformed into Starr's personal theme song. In addition, it foreshadows the Beatles' continuing explorations into country.
Source: Kit O'Toole/somethingelsereviews.com