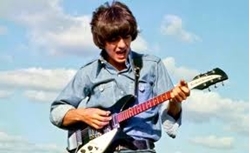 When you think of George Harrison's time in The Beatles, it's easy to focus on Abbey Road, the Fab Four's final studio album. After all, two of George's most celebrated songs — "Something" and "Here Comes the Sun" — landed on that record.
However, George didn't see his work on Abbey Road (1969) as any sudden flowering of his songwriting abilities. He thought his four songs on The White Album (1968) — and those that didn't make it on the record — stood up to that pair of tracks. (Think: "While My Guitar Gently Weeps.")
Considering George had three songs on Revolver (1966) and just one on Sgt. Pepper's (1967), it's probably best to think of him having several peaks with The Beatles. And when George looked back at his favorite work with the Fab Four, he thought of the band's second 1965 album as the highlight.
Source: cheatsheet.com