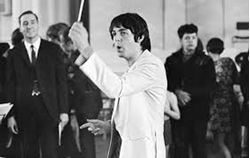 When people ask Paul McCartney about his favorite songs and albums by The Beatles, he's got a lot to choose from. You could start with Rubber Soul (1965), a record that inspired the Beach Boys' Pet Sounds — and one George Harrison held up as his own favorite with the Fab Four.
From there, it doesn't get any easier. Revolver, released in 1966, has always been the winner for many fans and features some of Paul's best work. If you're not knocked out by "Cry For No One," you have to be by "Here, There and Everywhere," the only song John Lennon ever complimented Paul on.
Indeed, looking back in the 1980s, Paul said that brilliant Revolver ballad might be his favorite song (with "Yesterday" as a close second). But albums are tougher to choose, especially given the deep bench of late '60s Beatles recordings.
But in an interview with Bob Costas in the early '90s, Paul did settle on a favorite. Were he forced to choose, he said he'd go with Sgt. Pepper's Lonely Hearts Club Band.
Source: cheatsheet.com