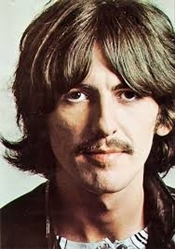 Over the years, George Harrison built up quite a following as "the quiet Beatle." Fans loved his style as the Beatles' lead guitar player and his occasional songwriting effort, starting with "Don't Bother Me," which he penned in 1963.
That track appeared on the second album by the Fab Four. By the mid-'60s, George's skills as a songwriter had grown to the point that one of his tunes ("Taxman") led off the classic Revolver album (1966). Beatles producer George Martin had definitely begun to believe in him by then.
Though George still struggled with technical aspects of his guitar playing, there was no questioning the maturity of his songwriting by '66. Meanwhile, his explorations of Indian music and meditation expanded the band's musical palette and made the Beatles stronger for it.
While Revolver was a great showing for George, his song-count fell off a cliff with Sgt. Pepper's Lonely Hearts Club Band. On that landmark album, George only had one track. But he roared back the following year, posting his highest song total on any Beatles album.
Source: cheatsheet.com