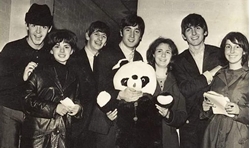 The Beatles perform Don't Let Me Down on rooftop 1969
November 20th 1963. The Beatles superfan Jacquie Graham was sixteen years ago and couldn't get a ticket to the Fab Four's show in Manchester. Nevertheless, she's revealed to Express.co.uk in an exclusive interview how she ended up meeting The Beatles thanks to her panda toy. Jacquie can't quite recall why she had the plush animal with her, but she and her friends tried their luck at the concert venue. She said: "We got to the Apollo. Knocked on the stage door and this chap came out and took the Panda."
Jacquie continued: "He just took it out of our hands and shut the door.
"We were absolutely furious. Very, very upset."
As a result, the girls took a taxi to the Daily Mirror in Manchester and explained to the paper what had happened.
They ended up back at the Apollo with a photographer, who managed to get into the venue and retrieve the panda toy – but that's far from the end of the story.
Source: George Simpson/express.co.uk