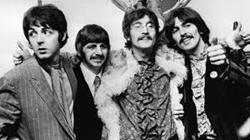 Quick, name the most avant-garde member of The Beatles. If you said Ringo, you and I should have a serious discussion. Certainly, George Harrison brought Eastern music to the group, so that was unique. And John Lennon did contribute one of the oddest tunes to the official Beatles catalog with "Revolution 9" on The Beatles (White Album). That over-eight-minute cacophony includes random noises, clips from radio shows, babies crying, and so on. It confused some and amused others, but generally became the talk of the music community.
However, in reality, the first band member to toe the cutting edge was Paul McCartney who enlisted his bandmates in what would be called "Carnival of Light."
In 1967, The Beatles were just beginning sessions for songs, many of which would appear on Sgt. Peppers Lonely Hearts Club Band. During a break from recording "Penny Lane," Paul asked the group to "indulge him for ten minutes.
Source: Will Wills/culturesonar.com