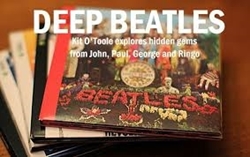 Songs can change radically from demo to final version. Nothing demonstrates this fact more than "Child of Nature," the John Lennon-penned track originally intended for the Beatles' White Album. Instead, it resurfaced in 1971 not as an ode to transcendentalism, but as a painful confessional.
During time studying under the Maharishi Mahesh Yogi in 1968, the Beatles not only learned about spirituality, but were inspired to write the bulk of what became the White Album. A particular lecture by the Maharishi not only compelled Paul McCartney to write "Mother Nature's Son," but Lennon to pen "Child of Nature."
Paul's song "was from a lecture of Maharishi where he was talking about nature, and I had a piece called 'I'm Just a Child of Nature,' which turned into 'Jealous Guy' years later," Lennon told Playboy in 1980. "Both inspired from the same lecture of Maharishi." Lennon brought the composition to the Beatles for consideration, recording a demo during the Esher sessions at George Harrison's home.
Source: somethingelsereviews.com