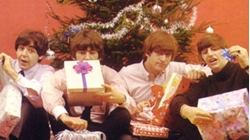 The Beatles Christmas messages began as a personal show of holiday gratitude to the band's fan club, but grew into an annual tradition as important as any evergreen chestnut for a generation. Growing up, the silly off-key carols meant Christmas. They were exciting. They were fun. They were funny. I never in my life worried about offending someone by saying Merry or Happy Christmas because, due to these recordings, I would forever mangle greetings like "Hare Kringle" and "very new jeers." Inviting Krishna devotees and insult comics into the happy proceedings.
Christmas was never a religious holiday at our house. It rocked. And it all started when radio stations started playing the crimbly greetings. Long after the Beatles broke up, prog and oldies stations alike would keep up the tradition.
The Beatles were natural comedians, as was their producer, George Martin. As a matter of fact, the producer only decided to work with the band after George Harrison got snarky with him. When The Beatles were asked what concerns they had with the first recording session, the guitarist took issue with the Martin's tie. Thus began a subliminal comic teaming informing future sessions.