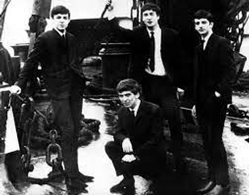 The Beatles' first-ever recording is one of the most valuable records on the planet, and Paul McCartney only got it back in 1981. The little shellac disc contains a cover of Buddy Holly's "That'll Be the Day" and their own "In Spite of All the Danger." It doesn't seem like much. However, it embodies The Beatles' early days. The single recording was integral to their transformation into one of the best rock 'n' roll bands.
In the summer of 1958, The Beatles were called The Quarry Men. It was John Lennon, Paul, George Harrison, drummer Colin Hanton, and Paul's school friend, piano player John "Duff" Lowe. The Quarry Men, who would become The Beatles in four years, wanted to make their first-ever recording.
In his book The Lyrics: 1956 to the Present, Paul wrote that he and the band found an ad for a little recording studio owned by Percy Phillips in Kensington, Liverpool. It cost only five pounds to record something on shellac. They split the price and set out to Phillips' recording studio, which turned out to be a small room with a microphone.
Source: Hannah Wigandt/cheatsheet.com