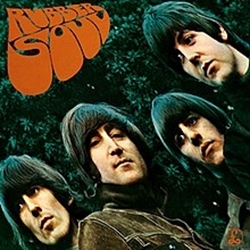 Jane Asher, Paul McCartney's girlfriend during much of the Beatles years, inspired many of his best compositions ("And I Love Her," "Things We Said Today," "You Won't See Me," and "Here, There and Everywhere," to cite a few examples). "I'm Looking Through You" paints a vivid picture of the couple's troubled relationship, but another muse may have inspired the Rubber Soul track: Bob Dylan.
As McCartney told Barry Miles in Many Years from Now, he wrote "I'm Looking Through You" while still living in the Asher family home. "I seem to remember [writing the song] after an argument with Jane," McCartney said. He composed the track as well as songs like "Yesterday" in Peter Asher's room, as he kept his instruments in the spacious area.
After penning the track, McCartney brought the song to Abbey Road Studios on October 24, 1965. They spent an astounding nine hours on the song, recording the rhythm track in a single take and overdubbing the lead and backing vocals, handclaps, maracas, organ, and electric guitar. Then they set the song aside for a few weeks. At this point, "I'm Looking Through You" featured a slightly slower tempo, significantly different percussion, no "why tell me why" bridge, an organ riff (courtesy of Ringo Starr), and a bluesy guitar solo from George Harrison. The extended instrumental sections resemble a Rolling Stones track through Harrison's snarling guitar.
Source: Kit O'Toole/somethingelsereviews.com