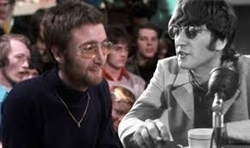 The Beatles made quite the impact on the music industry in the 1960s. A lowly quartet from Liverpool went on to become the biggest band in the world in just a few years - and it was mostly thanks to their incredibly composed hits that were supremely catchy. One of their most popular albums of all time was 1965's Help! The album saw the beginning of the band's transition into timeless pop band, utilising such hits as Help!, Ticket to Ride, and Yesterday. Despite the incredible music on the record, John Lennon famously "hated" one of his own songs.
Side two of the LP featured It's Only Love, a short soliloquy written and performed by Lennon.
While it certainly isn't as good as many of the other songs on the album, it is not a dreadful song by any means.
Despite this, in 1980 Lennon told David Sheff that he truly "hated" the track.
During the interview with Playboy at the time, Lennon was keen to condemn the song completely.
Source: Callum Crumlish/express.co.uk