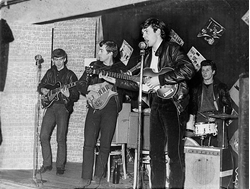 By the time the Beatles played Shea Stadium to 55,000 fans in 1965, the screams of the crowd were so loud that the band couldn't hear themselves play a note.
But at one gig, four years before, they very much could hear themselves play, all too clearly. In fact, pretty much the only other sound they could hear was metaphorical tumbleweed blowing across the venue floor.
The venue in question was the Palais Ballroom, in Aldershot, Surrey, England. This was the Beatles' first gig in the south of the UK, set up for the four by their pal, Sam Leach.
Leach's big idea was to get as many London record company execs into the Palais as possible. It proved, however, impossible to get even a single one.
Source: Wolfgang Wild/considerable.com