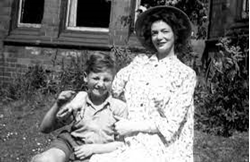 The Beatles recorded their first-ever song, "In Spite of All the Danger," on July 14, 1958, a day before John Lennon's mother, Julia, died. She was struck by a car.
John Lennon and The Beatles performing around 1960.
In the summer of 1958, The Beatles were called The Quarry Men. The band consisted of John Lennon, Paul, George Harrison, drummer Colin Hanton, and Paul's school friend, piano player John "Duff" Lowe. The Quarry Men decided they wanted to record their first-ever song.
In his book The Lyrics: 1956 to the Present, Paul wrote that he and the band went to a little recording studio owned by Percy Phillips in Kensington, Liverpool. Recording something on shellac cost only five pounds, and they split the money.
They rehearsed once and had only one shot recording the single. They chose a cover of Buddy Holly's "That'll Be the Day" as the A-side. Their "self-penned epic," "In Spite of All the Danger," was the B-side. Paul and John had a few songs by then, but Paul admits they weren't very good. "In Spite of All Danger" was the best.
Source: Hannah Wigandt/cheatsheet.com