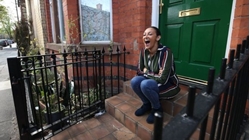 It is (almost) 50 years ago today that The Beatles released Sgt Pepper's Lonely Hearts Club Band. Liverpool is celebrating the landmark album's anniversary with a festival - and one event is taking it particularly close to home for locals.
When actress Brodie Arthur was asked to take part in Liverpool's official Sgt Pepper anniversary celebrations, she first needed to do some quick research.
"When they said 'Sgt Pepper,' I said, 'Oh no, I'll have to Google it because I don't know any of the songs on the album,'" the 25-year-old says.
"When I listened, I knew a couple of them, but I wouldn't necessarily have associated them with the album. I remember the cover and what it looks like, but I've never really been familiar with it."
Now more familiar, Arthur is the star of a play inspired by track six, She's Leaving Home.
Listening to it afresh as someone half the age of the album itself, the stirring ballad still "hits you in the feelers", she says.
The play is one of a number of events taking place in the Fab Four's home city for the anniversary.
Each song has inspired a different performance or artwork.
But none is what you might expect - there are no tribute gigs or homages to the LP's iconic cover.
More details: Sgt Pepper reimagined for anniversary
For She's Leaving Home, Liverpool-based theatre company 20 Stories High asked young people about their home lives and their reactions to the song, which was written about a girl who walks out because she feels trapped by her parents - who say they have "sacrificed most of our lives" for her.
Performances will take place for audiences of just 10 people in the front rooms of terraced houses in the Toxteth area, meaning the play is more closely rooted in the city than any of the other anniversary events.
Arthur, who's from Toxteth and is a former member of 20 Stories High's youth theatre, says she can relate to the song.
Bringing the song up to date
"Even though it was 1967, it does feel like that [now], and it hit me because when I left home my mum was a bit like that - 'I've sacrificed my whole life,' and all the rest of it.
"I was just looking at it like, 'I'm 18 and I want to move out and why are you being so horrible?'
"But now when I look back and after listening to the song, I thought, 'Oh bless her, she must have been an absolute emotional wreck and I was just packing my bags and leaving her.'"
Source BBC
Photo:
Gareth Jones