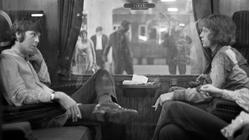 The debate has been raging for decades, and it will never die. The two iconic British invaders are inextricably linked in history, influencing and rivaling each other in near equal measure. The Beatles may be the most celebrated rock band ever, but the Stones are the "Greatest Rock 'n Roll Band in the World." It's like a battle of champions in sports, but without any rules or a scoreboard. So let's approach this as if it were a sports series—an old-school, best-of-five, winner take all.
What are the categories to represent the games in this series? Using some of the Rock & Roll Hall of Fame's criteria—honorees must have "demonstrat[ed] unquestionable musical excellence and talent" and "had a significant impact on the development, evolution and preservation of rock & roll"—and some other factors that help quantify greatness, we came up with the following:
Innovation: Pioneering achievements that paved the way for others to follow. Doors the band opened that perhaps otherwise would have remained closed.
Inspiration: The number and quality of the groups that are deemed by music historians and critics to have built their sonic landscape upon their foundation. This of course is highly subjective, so for a neutral arbiter we turned to the internet music database AllMusic.com, whose editors determine for every recording artist the other artists or groups they "had a direct musical influence on, or were an inspiration to."
Source: pastemagazine.com