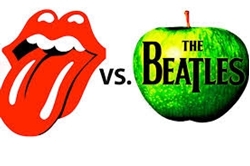 HERE WE GO AGAIN....
The battle between the Beatles and the Rolling Stones has been going on ever since they first crossed paths on the charts almost 50 years ago. The argument at the time, and one that still persists, was that the Beatles were a pop group and the Stones were a rock band: the boys next next door vs. the bad boys of rock. But it's not that clear cut, and never has been. So who's better? We asked two of our writers to choose side and make their arguments. Then we give you the final word. Here goes ...
These bands have more in common than their respective critics acknowledge: They're both British, they both grew up with American rock 'n' roll records that made up their early repertoires and they both shaped 20th-century music as we know it. But only one group continued to cut new paths at every step: the Beatles.
Source: ultimateclassicrock.com