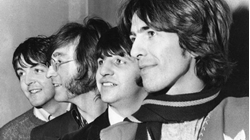 When it comes to Beatles nostalgia, the band's self-titled 1968 "White Album" has a king-size reputation — the biggest album (30 songs!) by the biggest band in the world at the time. But, to paraphrase a Beatles song, it was all too much, and its producer, George Martin, and at least a couple of its participants, George Harrison and John Lennon, would be among the first to agree.
A half-century later, little has changed, at least in the marketplace for more Beatles. Despite a $138 price tag, a newly released 50th anniversary "White Album" box set is No. 2 on the Amazon CD/vinyl sales rankings. It's a 4-pound doorstop: six CDs and a Blu-Ray disc containing the original album, 27 early acoustic demos and 50 session tracks, most of them previously unreleased, plus a hardcover book. The mix, by George Martin's son, Giles, is immaculate, and in many ways the Beatles have never sounded better or more intimate.
But is the actual music worth the fuss? The pop historians have trained generations to believe the Beatles could do no wrong, and that the "White Album" was one of the group's greatest achievements. It undeniably contains some of the band's finest songs. But does it really make the case for the Beatles in late-career overdrive, or is it a wildly erratic hit-and-miss hodgepodge that could've been better served as a single album?
Source: Greg Kot/chicagotribune.com