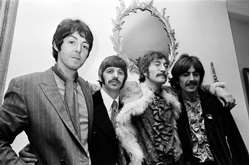 The 30-song double album that brought the world "While My Guitar Gently Weeps" and "Blackbird" landed at No. 6 on the Billboard 200 following a 50th anniversary reissue that hit shelves and streaming services Nov. 9. In returning to the charts, Billboard reports the album moved 63,000 units, with 52,000 coming from physical sales.
It's the highest charting week from the White Album since March 29, 1969, when the release appeared at No. 5. The record, officially titled The Beatles, spent nine nonconsecutive weeks at No. 1 between Dec. 1968 and March 1969.
The White Album, known for hosting some of the Fab Four's weirdest, heaviest and outright best compositions, found new life in 2018 thanks in-part to Giles Martin, the son of famed Beatles producer George Martin, who dove deep into Abbey Road archives to remix and repackage the famed release.
Source: Matthew Leimkuehler/forbes.com