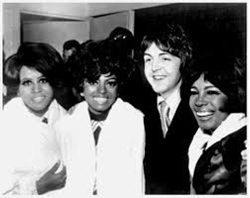 The Supremes and The Beatles are two of the most iconic groups to come out of the 1960s. Each group topped the charts and toured the world. This raises an interesting question – did The Supremes and The Beatles ever meet? And if they did, what happened?
Firstly, a little background. AllMusic describes the rise of The Supremes from their start as a quartet in Detroit's housing projects to a later trio under Berry Gordon's Motown label. Diana Ross, Mary Wilson, and Florence Ballard began to turn out No.1 hit after hit beginning with "Where Did Our Love Go" in 1964.
Likewise, The Beatles rose from humble beginnings in Liverpool, England. Biography.com details John Lennon, Paul McCartney, and George Harrison meeting and playing together as part of The Quarreyman. Pete Best joined the group as drummer until he was fired by Brian Epstein who had become The Beatles manager. Ringo Starr was then hired and the band was in place. They began a successful run in the UK that eventually led them to The Ed Sullivan Show – the rest is history.
Source: cheatsheet.com