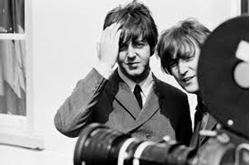 The contribution to music from John Lennon and Paul McCartney can never be truly overstated. The partnership spawned some of the world's most cherished songs and later emboldened the pair to seek solo careers. But what was the final song the pair truly wrote alongside one another?
'Lennon & McCartney' is a marking so ubiquitous on the back of The Beatles' first records that you would expect the Fab Four to be a duo. While George Harrison and Ringo Starr's own proficiency with a pen grew with time, for a short while all the songs were either Paul's or John's.
During the band's frenzied early moments, attached to one another by the almighty touring schedule, Lennon and McCartney created songs side by side. They worked on melodies together, they exchanged lyrical ideas, they harmonised on vocals and either played piano or guitar for one another. But soon enough that naturally came to an end.
Source: faroutmagazine.co.uk