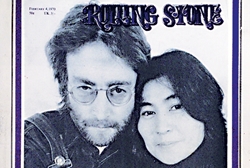 In the later years of The Beatles, there were John Lennon songs that told you exactly what was happening. "The Ballad of John and Yoko," the No. 1 hit John recorded alone with Paul McCartney in 1969, offers a perfect example. It's a straightforward story of events surrounding his wedding.
That was quite a different story compared to a song like "Norwegian Wood." On that Rubber Soul track, John spoke of how he composed it with deliberately obscure lyrics. (It was about an affair he wanted to hide from his wife Cynthia.)
But on the classic "In My Life" (also from Rubber Soul), John had something of a breakthrough as a songwriter. Rather than writing in code or speaking from someone else's point of view, he dug into his own personal history.
Eventually, the song became a bit of a literary creation and less a journalistic snapshot of places he remembered in Liverpool. But it began with mentions of both Penny Lane and Strawberry Fields — places that later became legendary in Fab Four lore.
Source: cheatsheet.com