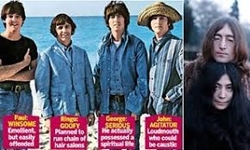 Hard to believe, but next month sees the 50th anniversary of the day The Beatles broke up.
The four of them had been together for under eight years, Ringo having joined John, Paul and George in the summer of 1962.
Yet as President Obama noted when presenting Sir Paul McCartney with an award at the White House, in that short time they had 'changed the way that we listened to music, thought about music, and performed music, forever'.
Even Her Majesty the Queen — hardly your typical fan — said in a speech on the occasion of her golden wedding anniversary: 'What a remarkable 50 years they have been for the world... Think what we would have missed if we had never heard The Beatles.'
Source: dailymail.co.uk