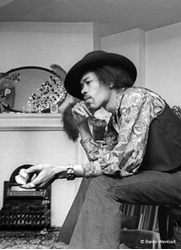 Of all the awards The Beatles got together and on their own as solo artists, Paul McCartney has racked up the most honors. The still-thriving Paul has the most Grammys and Billboard No. 1 hits of any member of the Fab Four.
In 1979, he even got several entries in the Guinness Book of World Records. One proclaimed him the most successful songwriter in history for the number of hit singles he'd written. Some 40 years later, he's still penning tunes and selling out concerts.
However, commercial success isn't everything to an artist on Paul's level. The respect of his peers and music critics has always mattered to him as well. You saw that when several bad reviews dinged his confidence in the early days of Wings.
During a series of interviews he gave in the '90s, Paul said what he considered one of the highest compliments he ever got. It came from Jimi Hendrix just a few days after the release of Sgt. Pepper's Lonely Hearts Club Band.
Source: cheatsheet.com