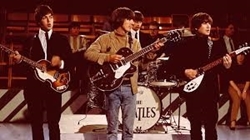 For Beatles fans, 1970 was a particularly heavy year - one in which we watched one of our most beloved bands fall apart, and witnessed the rebirth of each Beatle as a solo artist.
The chronology itself is crazy. A slew of Beatles-related albums were released in the space of that single year, starting with Ringo Starr's solo debut, Sentimental Journey, in March. Then came Paul McCartney's self-titled debut LP in April, along with a press release making it more or less clear that the Beatles were finished.
The stage was set for the May release of the Beatles' final album, though penultimate rerecording, Let It Be: a troubled and uneven set of tracks culled from sessions in 1969 that hadn't gone well.
It was the soundtrack album for a film of the same title, which chronicled the tragedy of a great band falling apart, while also giving us a last look at that Beatles magic, resplendent even in dysfunction.
Source: guitarworld.com