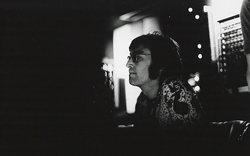 When John Lennon began recording with Yoko Ono in 1968, the couple had experiments they wanted to try out. They did just that with Unfinished Music Nos. 1 and 2 as well as Wedding Album. These three records all appeared while The Beatles remained together as a band.
In early 1970, with the days of Beatles recording sessions finished, John had a No. 3 hit with his single, "Instant Karma." Phil Spector, the producer who finished up Let It Be, proved to be a great match for John on that track.
After the Fab Four's official breakup and months of "primal scream" therapy, John and Yoko prepared to record again. They drafted Ringo to play drums, Klaus Voormann on bass, and Spector to produce.
Source: cheatsheet.com