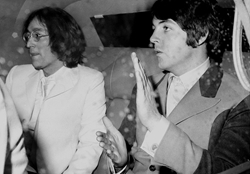 When The Beatles started out, the contributions of John Lennon and Paul McCartney could hardly be separated. They wrote lyrics and melodies together, harmonized on vocals, and took turns playing piano and guitar. A Lennon-McCartney song was exactly that.
Naturally, they developed their own styles over the years, and they grew apart as songwriters. Even though they had that Lennon-McCartney tag, you knew "Penny Lane" was a Paul tune and "Yer Blues" was 100% John.
However, their partnership didn't end when "Good Day Sunshine" stood next to "I'm Only Sleeping" on Revolver. According to the Beatles Bible, 1967's "Baby You're a Rich Man" represented a late, equal collaboration between the two.
But that wasn't that last time Paul and John made magic together. One more classic collaboration appeared on the final Beatles album. You can also hear the band deliver a spirited performance of it on the roof of Apple studios in Let It Be.
Source: cheatsheet.com