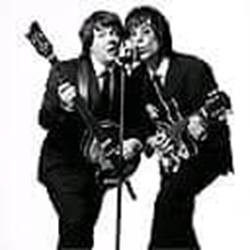 Jerry Seinfeld and Larry David mixed together sweet and sour the way the Beatles did.
In a telling scene set on an airplane in Seinfeld, Jerry lucks into a seat next to a gorgeous model in first class and revels in the pampering. "More anything? More everything!" he exclaims to a flight attendant in "The Airport" (season four, episode twelve). An equally revealing moment about Larry David comes in the opening minutes of season ten of Curb Your Enthusiasm, when David, walking down the street, casually grabs a selfie stick from a tourist, breaks it over his knee, and continues his stroll.
As Curb Your Enthusiasm wraps up its typically fraught and hilarious tenth season with its 100th episode Sunday night, while Seinfeld's more relaxed Comedians in Cars Getting Coffee is in limbo after eleven seasons, we may not see much in the way of new television from these two comedy geniuses for a while, though Seinfeld has a book of comic musings coming out in October, his first since 1993. While we await whatever David and Seinfeld do next, let's savor their creations like a smooth cup of brew from Latte Larry's.
Source: nationalreview.com