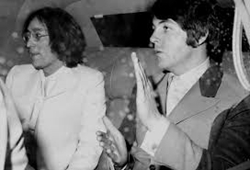 When fans and critics start ranking all the albums by The Beatles, you usually find Let It Be (1970) near the bottom. That makes sense for a number of reasons. For starters, the last Beatles release wasn't a product of all four band members working together in the studio.
In early '70, after the band handed the tapes over to producer Phil Spector, Paul McCartney was barely speaking with the other three Beatles. And when he heard Spector's rendition of "The Long and Winding Road" Paul became irate (to put it mildly).
Meanwhile, John Lennon didn't play on "I Me Mine," the last track The Beatles recorded in a studio as a band. And, speaking of George Harrison songs, you have to wonder how George only had "For You Blue" and "I Me Mine" on there, what with all the songs he had stashed in his notebook.
Source: cheatsheet.com