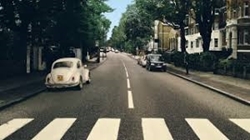 If you listen to a certain corner of the internet (it began offline long ago, actually), you'll hear some interesting theories about The Beatles. We present a taste of those in the italics below.
There's only one thing you need to know about Paul McCartney: He's dead. In November 1966, he blew his mind out in a car. The following year, his replacement, named William, took over on Sgt. Pepper's. (Billy Shears is just another way of saying, "Billy's here.")
It's obvious. Otherwise, why would Paul wear a black carnation in Magical Mystery Tour while his bandmates wore red ones? And why would he be barefoot on the cover of Abbey Road? That's a clear sign he's dead. (George Harrison is obviously the gravedigger; Ringo is the undertaker.)
We won't even touch the part of Paul holding a cigarette in his right hand on the album cover. Everyone knows he was left-handed, and thus would only hold cigarettes in his left hand.
Source: cheatsheet.com