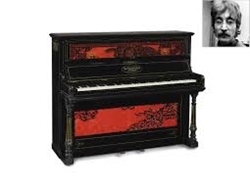 Money — that's what they want for a piano once used by legendary Beatle John Lennon to crank out some of his biggest hits.
An upright piano on which Lennon once wrote tunes for the Beatles' iconic Sgt. Pepper's Lonely Hearts Club Band is up for auction and is expected to fetch up to $1.2 million.
The John Broadwood and Sons piano, which dates back to 1872, is believed to have been in Lennon's possession since 1966 and was said to be his favorite, according to the Gotta Have Rock and Roll auction site.
Lennon used the instrument to write hits like "Lucy in the Sky with Diamonds" and "A Day in the Life" at his Kenwood estate, which he sold in 1968 amid a divorce from first wife Cynthia Lennon.
The "Imagine" singer eventually handed the piano off to a friend, but not before adorning it with a plaque that told of its storied history, according to the auction site.
Source: People