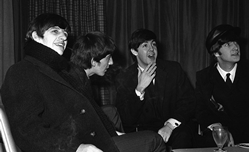 When The Beatles first arrived in America, the band was playing songs that didn't require much in the way of interpretation. In "I Want to Hold Your Hand," the band's first No. 1 Billboard hit, you got almost the entire message in the song's title.
Later on, as John Lennon and Paul McCartney explored new ideas, the lyrics became richer and, in the case of a track like "Eleanor Rigby," significantly darker. But you still got a great deal of optimism and innocence in Beatles songs, especially in ones written by Paul.
That continued through Magical Mystery Tour, the band's 1967 follow-up to Sgt. Pepper's Lonely Hearts Club Band. On that album, Paul countered the haunting "Blue Jay Way" (a George Harrison song) and John's "Strawberry Fields Forever" with "Hello Goodbye" and "Penny Lane." If you sing "Penny Lane" to yourself, you likely recall the parts about the shiny fire engine, cheerful barber, and pretty nurse selling poppies from a tray. But Paul also included a vulgar lyric for the old gang in Liverpool in the song's second half.
Source: cheatsheet.com