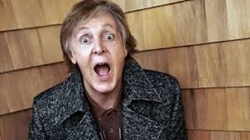 Paul McCartney hasn't been hugely provocative in recent years. However, that doesn't mean he can't make edgy music when he wants to. One of his more recent songs has lyrics that are a little risque by the standards of his recent work.
But Paul is still Paul. He has a famously good — and often cheeky — sense of humor. Paul worked in some provocative lyrics into one of his recent songs — without actually saying them.
One of the most famous songs from Paul's album Egypt Station is called "Fuh You." That title might look like a typo but it's not. "Fuh You" might remind people of a much dirtier phrase and that's exactly what Paul intended.
According to NME, it all started with the original version of the song, which included the line "I just want to for you." Ryan Tedder, the producer of the song and the lead singer of OneRepublic, misheard the lyric as "I just want to f*ck you." Tedder told Paul he shouldn't sing a line that vulgar. Paul had a mischievous idea.
Source: cheatsheet.com