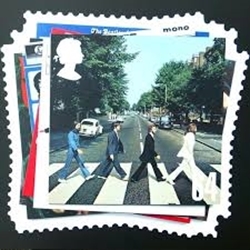 On the morning of Friday August 8th, 50 years ago, The Beatles were photographed walking across a pedestrian crossing in London.
The image of George Harrison, Paul McCartney, Ringo Starr and John Lennon striding across the road outside EMI studios in St John's Wood became the cover shot of their Abbey Road album and probably the most iconic photo of the Fab Four.
It was taken by the late Scottish photographer Iain Macmillan who stood on a ladder in the middle of the street while a policeman blocked the traffic. The whole thing was done in roughly 10 minutes.
Glasgow-based author Ken McNab, author of And in the End: The Last Days of the Beatles, told BBC Radio's Good Morning Scotland programme that relations between the band members were strained at the time and it was just weeks before they split up entirely.
He said: "They were professionally and personally exhausted".
Mr McNab said Macmillan, who died in 2006, was very modest about the picture.

Source: Douglas Frase/bbc.com