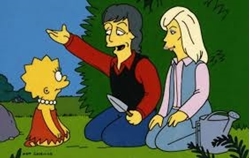 The writers of The Simpsons say that Paul McCartney "always checks" that Lisa is still a vegetarian, after it became a key condition of his guest appearance on the show.
The Beatles icon appeared alongside his late wife Linda in 1995's Lisa The Vegetarian, an episode in which Lisa vows to stop eating meat after meeting the McCartneys.
In a new interview with the Radio Times, show consultant David Mirkin – who is also a vegetarian – said he was "happy to comply" with McCartney's request.
But he admitted that every time he bumps into McCartney, "he always checks. And he's always surrounded by nine or ten lawyers so it's quite frightening."
Source: Nick Reilly/nme.com