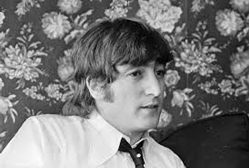 Plenty of artists have toxic fans but few call them out in their own music. John Lennon was one of the few. In a single song, he attacked Christianity, the Hare Krishna movement, and the delusional fans who came to his door.
John Lennon | Harry Benson/Express/Getty ImagesWhen John Lennon equated the Beatlemania with religion
During his solo career, John dealt with a lot of his frustrations through song. Sometimes he discussed his dissatisfaction with the world in an accessible way, like in "Imagine." Other times he went for the jugular.
In "I Found Out," John attacks religion, telling people they shouldn't look to Jesus Christ or Hare Krishna gurus to solve their problems for them. In addition, he says he's "seen religion from Jesus to Paul." The line itself is ambiguous, as the Paul in question could be Paul the Apostle or Paul McCartney. However, the Beatles Bible reports the lyric is about the latter, so John appears to be equating the Beatles fandom to a religion in that line. Fans often interpret "I Found Out" as a condemnation of people looking to religious figures or celebrities for salvation rather than themselves.
Source:entertainment--news.com