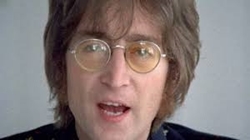 John Lennon's seminal 'Imagine' is one of the most celebrated pieces of music of all time.
Released in 1971 from the album of the same name, it cemented Lennon as a songwriting genius on his own right following the breakup of The Beatles the year before.
Nearly 50 years later, and it's still one of the most covered songs ever, and continues to be used as a symbol of the pursuit of world peace.
But what inspired the song and how was it made? Here's all the important facts:
Lennon was inspired by several poems from wife Yoko Ono's 1964 book Grapefruit.
One poem, which Capitol Records later reproduced on the back cover of the original Imagine album titled 'Cloud Piece', reads: "Imagine the clouds dripping, dig a hole in your garden to put them in."
Lennon later explained that the song "should be credited as a Lennon/Ono song. A lot of it – the lyric and the concept – came from Yoko, but in those days I was a bit more selfish, a bit more macho, and I sort of omitted her contribution, but it was right out of Grapefruit."
Source: Tom Eames - Smooth Radio