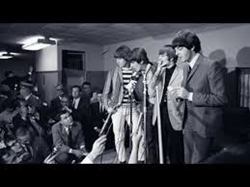 In 1964, a persistent hurricane-stricken Jacksonville, Florida crowd gathered excitedly to watch The Beatles step foot on stage. Little did they know just how close the concert was to being canceled. The U.S. was in the full throws of segregation and a civil rights movement. It was a time when, as historian Dr. Kitty Oliver remembers,
"public accommodations were separate, inequities were rampant, and opportunities were stifled." She goes on to recount, "As tensions accelerated, our churches warned us not to get involved in civil rights activities for fear of reprisal against our parents." It was also peak Beatlemania and a 16-year-old Oliver couldn't help but be drawn to a wider world and perspective.
"Still, some of us risked rebellion," Oliver admits. "At night, for fun, I listened to the 'White radio station.' That's where I was introduced to The Beatles. They were rebels, flaunting their difference in the way they looked and sounded, and I was a fan from the start." This is also where she heard that The Beatles were coming to town and would be at the Gator Bowl Stadium in Jacksonville, Florida. Fueled by determination and the growing tide of the civil rights movement, Oliver saved money, took a cab, and headed to the event.
Sources: mymodernmet.com