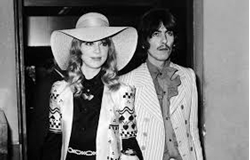 In the mid-'60s, George Harrison's explorations into Indian music had a marked impact on the sound of The Beatles. From the opening notes of "Norwegian Wood" to the very Eastern "Within You Without You," George's use of the sitar and tambura made the Fab Four a more interesting band.
But that shift in focus had its side effects. The time George spent learning the sitar took time away from his guitar playing beginning in 1965. Looking back in '77, he said he barely played the guitar for about three years.
During that stretch, George had to look on as Paul McCartney grabbed the solo on "Taxman" (a song George wrote in '66) and "Good Morning, Good Morning" ('67). But after his return from India in '68, George once again focused on the guitar.
Source: cheatsheet.com