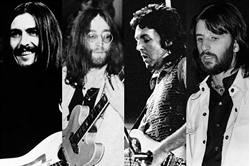 The week of April 11 – 17, 1971 was a busy one for the Beatles — even though the band had split up.
During that week, each former Beatle had a solo single on the UK Top 40 chart, indicative of the public's insatiable need for all things Paul McCartney, Ringo Starr, George Harrison and John Lennon, even after the messy and dramatic dissolution of the world's most famous band by 1970.
Highest on the UK Top 40 chart that week was "Power to the People," a single from John Lennon and Plastic Ono Band, a song which later turned up on the 1975 release Shaved Fish. The song sat at No. 10, sandwiched between No. 9, "Walkin" by CCS and No. 11, which we'll get to next.
Paul McCartney's "Another Day," his first official solo single, was right on Lennon's heels at No. 11 on the chart that week. Written originally during the Beatles' Let It Be sessions, the song would later turn up on Sir Paul's many Greatest Hits compilations and re-issued versions of RAM.
Source: Rock Cellar Magazine Staff/rockcellarmagazine.com