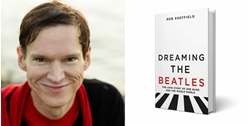 After being wooed by four mop-haired musicians in matching black turtlenecks harmonizing "Help!" on a television screen, 5-year-old Rob Sheffield became a Beatles mega fan.
"Don't you know that band broke up?" his parents would ask. "They don't exist anymore," his teacher would say. It was the early 1970s, and while they weren't wrong—The Beatles called it quits in the final months of 1970—they weren't right, either.
Sheffield had seen them, right there on TV. He heard them with his own ears, on the radio and the vinyl records he played.
Almost five decades later, Sheffield, who has written about music and pop culture for Rolling Stone since 1997 and is a New York Times best-selling author of five books, is still listening to The Beatles.
Source: Erin O'Hare/c-ville.com