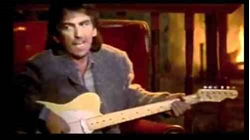 Tom Petty And The Heartbreakers perform The Beatles' classic, "I Need You", in the latest video preview to the February 23 release of "Concert For George", a 2002 tribute event in honor of George Harrison that is being reissued to mark the late guitarist's 75th birthday on February 25.
The song first appeared on the UK band's 1965 album and soundtrack from their film, "Help!" irected by David Leland, "Concert For George" features a variety of artists performing at a November 29, 2002 tribute show at London's Royal Albert Hall on the first anniversary of Harrison's passing from lung cancer at the age of 58.
"We will always celebrate George's birthday," says his widow, Olivia Harrison, "and this year we are releasing Concert For George in a very special package in memory of a special man."
Source: antimusic.com