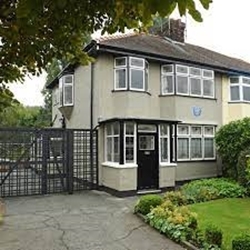 The light in John Lennon's old bedroom will be left on overnight next month.
Mendips, Lennon's childhood home in Woolton, where he lived from 1945 to 1963, is now owned by the National Trust. Lennon's widow Yoko Ono bought the house in March 2002, and donated it to the National Trust in order to save it from demolition and property speculators.
The childhood home of Paul McCartney - 13 Forthlin Road - is also owned and managed by the National Trust, with many citing it as the birthplace of the Beatles.
On October 9 every year, the light in John's old bedroom in Mendips is left on overnight by the managers of the house, to mark the former Beatles' birthday. This year would have been the music legend's 82nd.
John lived at the Woolton address with his Aunt Mimi. He would later move out in 1963 as the Beatles rocketed to stardom.
Source: Aaron Curran/liverpoolecho.co.uk