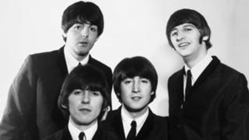 Music promoter Tony Calder, who helped The Beatles score their first hit single, has died at the age of 74.
He started his career at Decca Records in the 1960s and went on to work with the Beach Boys, Marianne Faithfull, Black Sabbath and Eddy Grant.
The executive also co-founded his own independent record label, signing acts like Rod Stewart and Fleetwood Mac.
Andrew Loog Oldham, his former business partner, tweeted: "A member of the family has left us."
Born in Surbiton, Surrey, to Scottish parents in 1943, Calder was one of the busiest agents on the music scene of the 1960s, working at Decca Records by day and as a DJ for Mecca dancehalls by night.
In 1962, he was tasked with promoting the Beatles' first single, Love Me Do.
Source: BBC