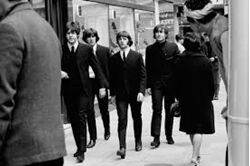 It is 1965 – four years before Here Comes The Sun, as it goes – and John, Paul, George and Ringo are sprinting down a London street while filming their hit movie Help!
The pics were taken after snapper Derek Bayes heard a commotion from his office and spotted the Fab Four's antics on New Bond Street, Mayfair.
It was May 9, a quiet Sunday, and Derek had to be quick to capture pop's biggest ever band.
The pictures, unpublished until now, reveal a hilarious day's filming – affected largely by the band being stoned.
Ringo Starr, who has just turned 80, has blurry memories of making the film, directed by Dick Lester.
The drummer once said: "A hell of a lot of pot was being smoked while making the film. It was great. That helped make it a lot of fun. You can see a lot of red-eyed shots; they were red from the dope we were smoking. Dick knew very little would get done after lunch. We seldom got past the first line of the script.
Source: Julie McCaffrey/mirror.co.uk