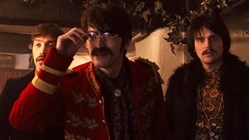 A short film inspired by one of the most infamous conspiracy theories in rock has been released.
The Paul Is Dead conspiracy originally kicked off when Sgt. Pepper was released, where the back cover pictured McCartney with his back to the camera, next to the words 'Without You', as if he'd been replaced for the session by a doppelganger. It gathered pace following the release of Abbey Road, where a series of supposed clues hinted at McCartney's apparent demise.
Paul Is Dead tells the story of what might have happened had the cheery mop top actually died. Rather than taking its cue directly from the conspiracy, which has McCartney perishing in a car accident, the film places the band a retreat in the Lake District, where he passes away after an unintended drug mishap. The remaining Beatles set out to replace the dead musician with a local singer, Billy Sheers, and to secretly bury the deceased atop a nearby hill.
Source: By Scott Rowley/loudersound.com