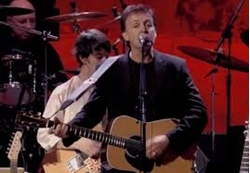 As part of the Concert for George in 2002, Paul McCartney led an all-star band in a touching rendition of his Beatles bandmate George Harrison's iconic hit 'All Things Must Pass'. The song is sung in memory of Harrison a year after his passing and its message still rings true today.
The Concert for George was held at the Royal Albert Hall in London on 29 November as a fitting memorial to the mercurial songwriting genius and former Beatle, George Harrison, on the first anniversary of his death. The event was organised by Harrison's widow, Olivia, and his son, Dhani, and was a global musical event, expertly guided by Eric Clapton. The profits from the event went to the Material World Charitable Foundation, an organisation founded by Harrison.
It welcomed a host of incredible guests for the evening, opened by Anoushka Shankar, Ravi Shankar's daughter, the stars on show were brighter than ever. It even saw a Monty Python comedy break introduce Academy Award-winner Tom Hanks singing 'The Lumberjack Song'—but the real party began when 'George's Band' rolled into town.
Source: faroutmagazine.co.uk